Projects
Here are reported a few results of granted projects. If you wish yours to appear on this same page, please e-mail an abstract (max 10 lines), a picture and a title (preferably in English) at mesocentre-admin@univ-amu.fr.
---
SPECFEM3D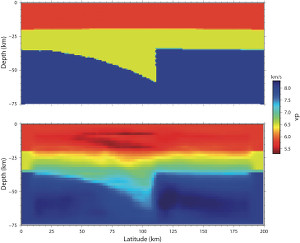 Reconstruction acoustique en aveugle par inversion de la forme d'onde acoustique complète et à très haute fréquence (en bas) d'un modèle exact donné (en haut) à l'aide d'un algorithme d'inversion sophistiqué appelé L-BFGS, implémenté dans notre logiciel parallèle haute-performance appelé SPECFEM3D. Auteurs : Vadim Monteiller, Sébastien Chevrot, Dimitri Komatitsch et Paul Cristini (CNRS + AMU + Ecole Centrale).


---
Projet Fluid – Structure Interaction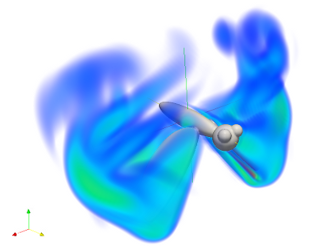 Volume rendering of the vorticity generated by an insect with rigid flapping wings. Computed with 12 CPU, the resolution is 2563 (K. SCHNEIDER, AMU-M2P2).


---
Projet Feu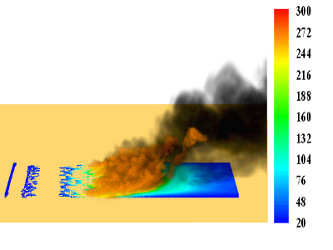 Propagation d'un feu de surface à travers un couvert végétal de type 'prairie' : température de surface du combustible solide (couleur), taux de dégagement de chaleur (orange) et fraction volumique de particules de suie (noir) (D. MORVAN, AMU-M2P2).


---
TOKAM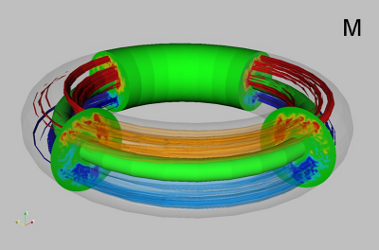 Vitesse parallele instantanee pendant une turbulence 'resistive ballooning' (CEA).


---
Gysela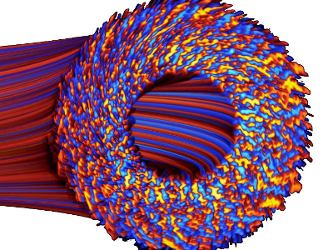 Ion temperature fluctuations in the turbulent saturated phase (CEA).


---
Eve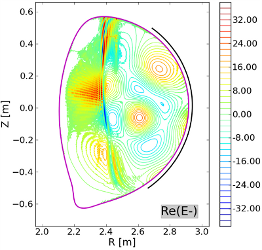 Conversion de mode dans un plasma D + 3He (20%) (CEA).


---
Jorek
Evolution de la densite pendant une relaxation (ELM) dans ITER (CEA).


---
Xtor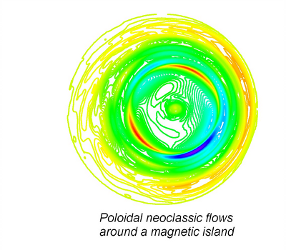 Vitesse poloidale avec effets collisionnels (neoclassique) (CEA).


---
Iter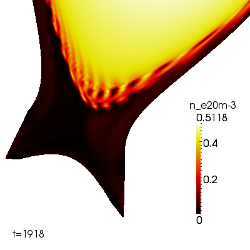 Density evolution near X-point during non-linear phase of ELM (n=9) crash in ITER 7.5MA H-mode scenario. (from Report on GRT265-F4E)


---
TOKAM3X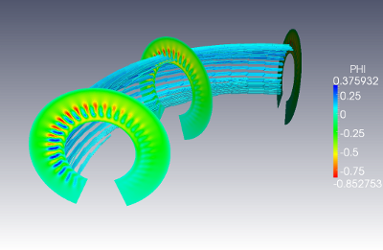 Electrostatic potential structures due to interchange turbulence in the Scrape-Off Layer.


---
FireStar3D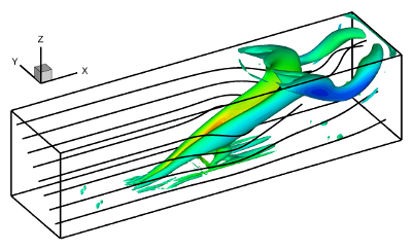 Iso-valeur du critère Q coloriée par la composante verticale de la vitesse.


---
AMON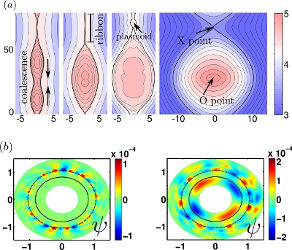 Magneto-Hydro-Dynamics simulation of a large magnetic island in 2D slab showing the coalescence process, the collapse of the X point into a ribbon, the generation of plasmoids and the final stage.
Generation of a magnetic island from turbulence with a Magneto-Hydro-Dynamics model in 3D cylindrical geometry. The turbulence is initially at dashed-line radial position, then a magnetic island appears at full-line radial position.